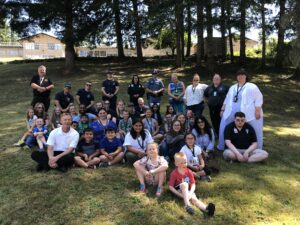 The North Mason Regional Fire Authority is currently accepting applications for the position of Emergency Prevention Specialist. The Emergency Prevention Specialist reports directly to the Authority's Fire Chief and works closely with the Assistant Fire Chief and Shift Captains. The Emergency Prevention Specialist performs technical and supervisory duties in the areas of public education, public information, community outreach and emergency prevention.
The Specialist leads the Authority's community outreach and prevention programs by directly engaging with internal and external stakeholders and is critical in helping the Authority meet its mission to Safeguard North Mason Communities.
Click on the link below for additional information about the position, as well as the application packet.
Emergency Prevention Specialist Application Packet
Completed application packets are due no later than 5:00 p.m. on Friday, March 13, 2020. Please contact Executive Assistant Renee Wassenaar at rwassenaar@northmasonrfa.com or 360-275-6711 Ext. 2 with any questions regarding the application process.
IMPORTANT DATES
Opening Date:             February 14, 2020
Closing Date:               March 13, 2020
Assessment Center:    March 20, 2020
Chief's Interview:        To be scheduled
Start Date:                    April 2020