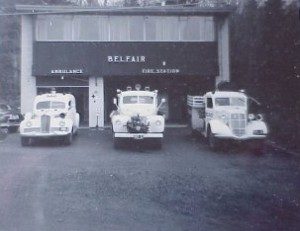 The North Mason Regional Fire Authority encompasses the majority of the northeast portion of Mason County comprising of approximately 36 square miles. The Authority began its operations following a voter approved combination of Mason County Fire District 2 (Belfair and Mason County Fire District 8 (Tahuya). The Authority serves approximately 22,000 residents in the community of Belfair, Dewatto, Collins Lake, Trails End Lake, Tahuya, Maggie Lake and both the north and south shores of Hood Canal.
Mason County Fire District #2 was first chartered as a fire district in 1946. It started with a World War II military surplus fire engine and a Quonset hut building in downtown Belfair. At that time, it served a community of approximately 400 citizens. In the early 1950's, an additional fire truck was purchased, along with a military surplus Ambulance. The fire district was able to provide both fire and emergency medical services to the area for over 20 years. This was accomplished solely by volunteer fire firefighters.
Today, the North Mason Regional Fire Authority emerges as an organization who builds on the proud tradition of its mission to Safeguard the North Mason Community. The Authority is comprised of three staffed fire stations located in Belfair, Collins Lake and Tahuya, and seven volunteer fire stations spread throughout the remainder of the Authority. The Authority prides itself on being an all hazards response agency as it is responds to any type of emergency to include, fire, emergency medical and rescue situations. The majority of the Authority's emergency service work centers on emergency medical treatment and transport. Out of the 2100 alarms answered annually, nearly 85% are emergency medical responses. Advanced Life Support (Paramedics) and Basic Life Support (Emergency Medical Technicians) are strategically located in the Authority, and available to respond to emergency incidents 24 hours a day.
The Authority employs a Fire Chief, Assistant Fire Chief, three Fire Captains, ten Firefighter/EMT's, six Firefighter/Paramedics, a Community Outreach Coordinator, an Administrative Assistant, and Executive Assistant who also acts as the Board Secretary. The Authority's employees are supplemented by a student firefighter, that consists of six Firefighter/EMT's who are training and working towards becoming a career firefighter.
Since their inceptions, Mason County Fire District #2, Mason County Fire District #8 and the North Mason Regional Fire Authority have relied on their community volunteers. The Authority maintains a roster of over 100 dedicated volunteer fire fighters and Community Response Team (CRT) members. These local residents respond day and night to assist their neighbors in need. Without their commitment to the organization and community, the Authority could not provide the level of emergency service that North Mason currently receives.
The Authority places tremendous emphasis on is community outreach program. This program is comprised of many services including Home Safety Inspection, Free Address Signs, First Aid and CPR Classes, Disaster Preparedness and Fire Extinguisher training.
The North Mason Regional Fire Authority is a great source of community pride and rightfully so. It represents the very best efforts of community volunteers and dedicated career staff working together to assure that our high quality fire and emergency medical service continues undiminished into the future. We are so fortunate to be able to Safeguard the North Mason Community!