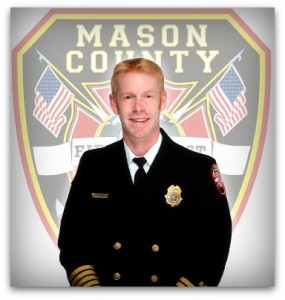 Fire Chief – Beau Bakken
Fire Chief Beau Bakken has served the citizens of North Mason for 25 years. Raised in Bremerton, Beau began at the age of 19 with Mason County Fire District 2, in the Volunteer Resident Firefighter Training Program. Beau attended paramedic school in Tacoma and was hired by the Fire District in 1999 as a Firefighter/Paramedic. Since that time, he has moved through the ranks, obtaining the rank of both Lieutenant and Captain. He was appointed as the District's Fire Chief in 2007. He and his Team worked to open and staff the Collins Lake Fire Station full time (2009), merge the Tri-Lakes region into the Fire District (2011), reduce the Fire District's protection Class Rating to a 5 (2013) and passed a voter approved bond to build a new headquarters Fire Station (2019). In 2014, Beau led the effort to combine the resources of Mason County Fire Districts 2 and 8, helping to form the North Mason Regional Fire Authority. He and his staff have also worked to bring over 2 million dollars in grant funding to the Authority. He has previously served as the MACECOM 911 Governing Board Chair and currently serves as President for the Mason County Fire Chief's Association. Beau attributes these accomplishments to outstanding staff and supervisors who have worked tirelessly to become a high performing team.
In the community Beau has served as the President of the North Mason Rotary Club, serves as the vice-chair for the St Michael Medical Center Board of Directors, chairs the St Michael Medical Center Foundation and volunteers in numerous community events. In 2017 Beau helped to formulate the Mason County Opioid Stakeholders Group which has brought together over 70 agencies to address the opioid crisis in Mason County. He has earned an Associate's degree from Bellevue College, a Bachelor of Science degree in Fire Service Administration from Eastern Oregon University and a Master of Arts degree in Public Administration from the University of Washington. He also completed the four year Executive Fire Officer program from the National Fire Academy in Emmitsburg, Maryland. In his off hours Beau teaches Fire Protection Management at Eastern Oregon University and fly fishes across the western United States. Beau, his wife Brittney, their daughter Ensley (born 2012) and son Rowan (born 2014) are proud residents in the Twanoh Falls neighborhood.
---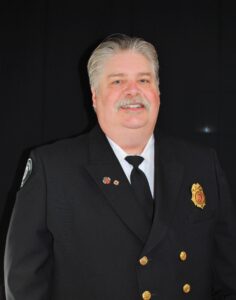 Assistant Fire Chief – Scott Cooper
Scott Cooper is the Assistant Fire Chief of Operations for North Mason Regional Fire Authority. He holds degrees in Fire Command Administration from Olympic College in Bremerton, a Fire Service Administration Baccalaureate of Science degree from Eastern Oregon University, as well as numerous Federal, State and local certifications. He has attended National Fire Academy classes in Emmitsburg Maryland in Command and Control of Incident Operations, Incident Management and the Executive Leadership series. He serves on the Mason County Fire Chief's County Wide Incident Management Committee, Fire Investigation and Training Officer's Committee and is an active member of the Washington State Fire Chief's Association.
Assistant Chief Cooper began his fire service career with the SUBASE Bangor Fire Department in 1987. While there, he worked through the ranks of firefighter, driver, Captain and Battalion Chief. In 1998, he was promoted to Assistant Chief of Operations. Scott made his move to Mason County Fire District  2 as a Shift Captain in July of 2001, initially hired as the Special Operations Captain. He has also served as the department's Emergency Medical Services Captain and the Training Captain. In 2010, he was offered and accepted the position of Assistant Chief of Operations for Mason County Fire District 2 which would become North Mason Regional Fire Authority. Assistant Chief Cooper lives in the Lynch Cove neighborhood. He is actively involved in many community projects within the communities he serves.
---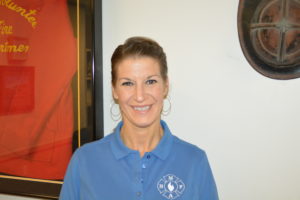 Executive Assistant – Angie McCormick
Executive Assistant Angie McCormick joined the North Mason Regional Fire Authority in October 2016. Originally hired as an Administrative Assistant, her hard work and dedication to the Fire Authority earned her the position of Executive Assistant of Finance, Human Resources and Records. Her administrative career spans nearly two decades, including 14 years working in Human Resources for the Navy Exchange at Naval Base Kitsap Bangor. A longtime Allyn resident, Angie enjoys being able to work closer to home, so she can spend time with her family.
---
Photo Coming Soon
Executive Assistant – Renee Wassenaar
Renee Wassenaar joined the North Mason Regional Fire Authority in November 2019, filling the new position of Executive Assistant of Programs and Policy. She earned her Bachelor of Science degree in Elementary Education and Psychology from Northern Arizona University. Prior to joining the Fire Authority, she worked in health insurance for 12 years, specializing in member contract appeals, provider administrative disputes and serving as a Lead for the Appeals Department. She has lived in the Pacific Northwest nearly all of her life, growing up in the Key Peninsula community of Home. She and her husband currently reside in Home, while they build their new home in Port Orchard.
---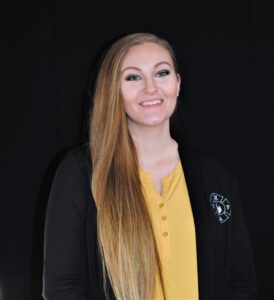 Administrative Assistant – Kayla Sturgis
Administrative Assistant Kayla Sturgis is originally from the Willamette Valley area in Oregon. Kayla and her family moved to Washington in 2019 and loves that it feels like her home in Oregon. Shortly after graduating high school, Kayla welcomed her second child, and has spent the years since focusing on managing her household and raising her children. When her three children became school-aged, Kayla was ready to start a career and feels the Authority is a perfect fit. She enjoys being a part of the community as a whole and immediately loved the atmosphere at the Authority, joining in November 2019. Kayla has previous experience working in a daycare and as an administrative assistant. Outside of work, her free time is spent with her children. She enjoys taking them to fun places, getting them outside and baking with them. Kayla will be welcoming her fourth child in the days or weeks to come.
---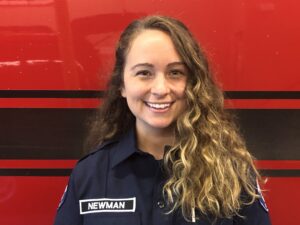 Emergency Prevention Specialist – Lacey Newman
Emergency Prevention Specialist Lacey Newman joined the North Mason Regional Fire Authority in June 2020. She grew up locally in the town of Belfair, before moving to Seabeck at the age of 15. She graduated from Klahowya Secondary School and continued her education at Central Washington University, earning a Bachelor's Degree in Psychology with minors in both Sociology and Family Studies. Before joining the Fire Authority, she worked as a Flight Attendant for six years. During her career as a Flight Attendant, a passenger collapsed on a flight, and Lacey performed CPR until paramedics were able to access the plane. After that, she knew she had a passion for emergency services.
In 2017, Lacey began volunteering at Central Kitsap Fire & Rescue and went to EMT school. In 2019, she was offered a position as a career Firefighter/EMT at Central Kitsap Fire & Rescue. Unfortunately, she was forced to resign in February 2020, after sustaining an injury during training that she was unable to fully recover from. In her free time, Lacey enjoys fishing, razor clam digging, paddle boarding and spending time with family, preferably outdoors.  She loves being able to help and serve others and has a passion for emergency services. She is thrilled to have the opportunity to serve in her hometown.
---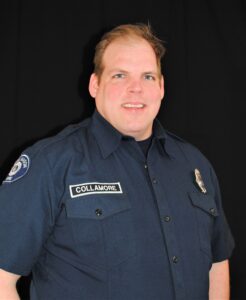 Community Outreach Coordinator – Robert Collamore
Community Outreach Coordinator Robert Collamore grew up in the nearby town of Wauna, WA and graduated from Peninsula High School. Following high school, Robert attended Central Washington University, where he earned a Bachelor of Science degree in Safety and Health Management and a Bachelor of Arts degree in Food Service Management. He began his fire/EMS career in Kittitas County, WA during college as a way to pay for school, worked in Yakima on an ambulance and in Skykomish during the winter ski season.
Shortly after college, Robert moved to Alaska on a whim, and worked as a fire claims adjuster on large-loss fires and as an EMS Coordinator for a small fire department. He later sold his house and belongings, in order to live in a van and travel around the United States. Robert finally moved back to Washington in 2017, after accepting the position of Community Outreach Coordinator with the North Mason Regional Fire Authority.
Robert enjoys his career in the fire service because it is always something different, with new problems to solve and challenges to overcome on a daily basis. Also, who wouldn't want to drive a fire truck? His favorite hobby is vacation and he loves road trips and train rides. His new travel goal is to ride all eight of the world's longest train routes.