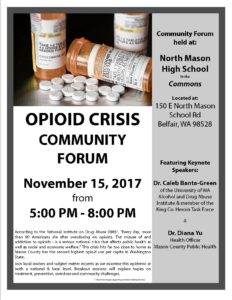 Please join local leaders and subject matter experts as we come together to examine the Opioid epidemic both at a national and local level. The forum will feature Keynote speakers: Dr. Caleb Banta-Green of the University of WA Alcohol and Drug Abuse Institute, and Dr. Diana Yu, Health Officer with Mason County Public Health. Breakout sessions will explore topics on treatment, prevention, overdose and community challenges.
Date: Wednesday, November 15th
Time: 5:00 PM – 8:00 PM
Location: North Mason High School in the Commons (150 E North Mason School Rd, Belfair,WA 98528)
Cost: Free
To download a flyer please CLICK HERE.