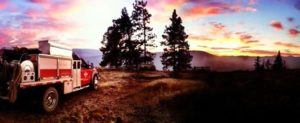 Wildland students Trevor Swetkovich and Tucker Johnson along with Student Firefighter Micah Coolidge recently returned from a nine day dispatch to three Eastern Washington fires. The strike team initially responded to the North Touchet Fire in Dayton. From there, they were reassigned to the Snake River Fire in Whitman County.  And while on their return, were diverted to the Lower Crab Creek Fire in Mattawa.  It was a unique experience for our wildland students to perform wildfire suppression in a variety of fuels and topography in such a short amount of time.
According to Strike Team Leader, K.C. Whitehouse of Central Mason Fire and EMS the highlight of the dispatch was the 80+ acre burnout that was performed and led by the Mason County Strike Team on the Snake River Fire. The team got to develop a complex burn plan during the initial attack of the fire that was successful in protecting a home and several structures along Wawawai Canyon.  When the burn was completed, the residents of the community came out and physically applauded firefighters.
Our wildland students had a front row seat to the authorization of a state mobilization on the Lower Crab Creek Fire and performed structure protection on a community of about 15 homes.  They worked collaboratively with Grant County fire resources and the Rogue River Hotshots to save all of the structures and to stop the forward movement of the fire.
We applaud them for their hard work and are happy to have them back home safely.