Fire Prevention week is October 4th-10th. Each day of the week, we will be sharing a new educational fire prevention video packed with information to help keep you and your loved ones safe.
Day 1
Monday, October 5th is all about serving up safety in the kitchen! Nearly half of reported home fires start in the kitchen, making it the leading cause of residential fires. In the video below, Emergency Prevention Specialist, Lacey Newman, goes over some important safety tips, to help you and your loved ones stay safe in the kitchen.
We want to ensure our safety messages are inclusive for everyone in our community. For that reason, each of these videos will have a Spanish subtitle. Thank you to our very own Volunteer Firefighter, Marcela Rafael, for all her hard work translating the videos and making this goal a reality. We are excited to produce bilingual messages for Fire Prevention Week and are eager to provide more bilingual material in the future.
Be Fire-Safe in the Kitchen: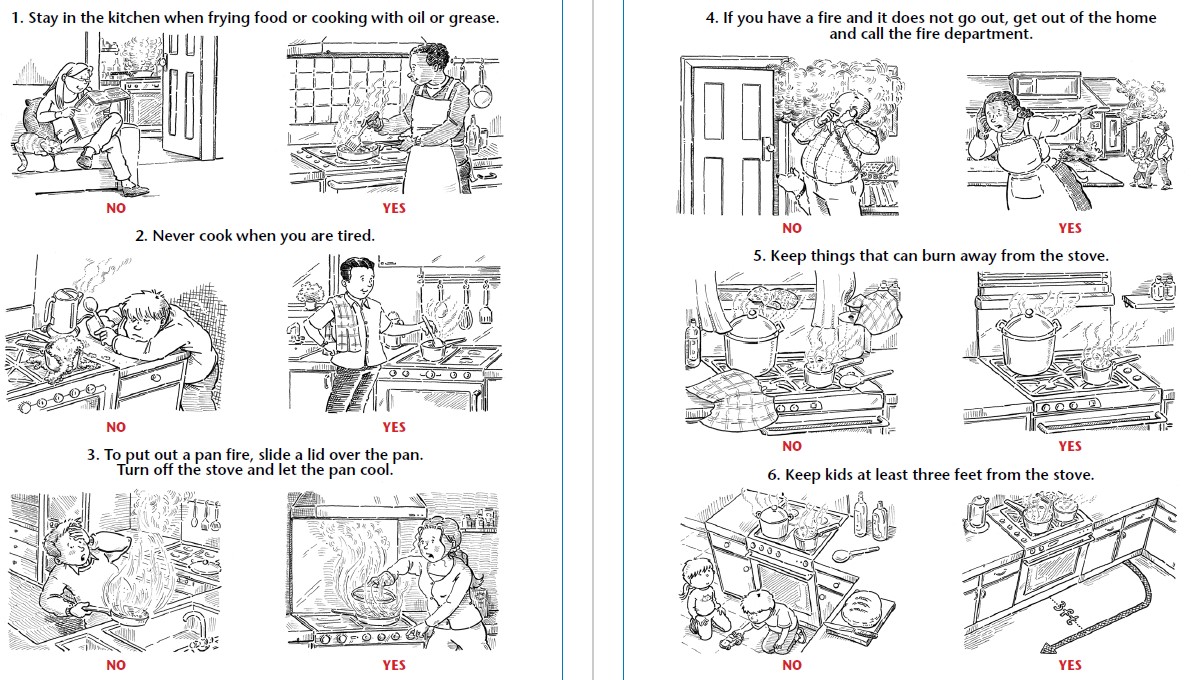 Esté a Salvo contra Incendios en la Cocina: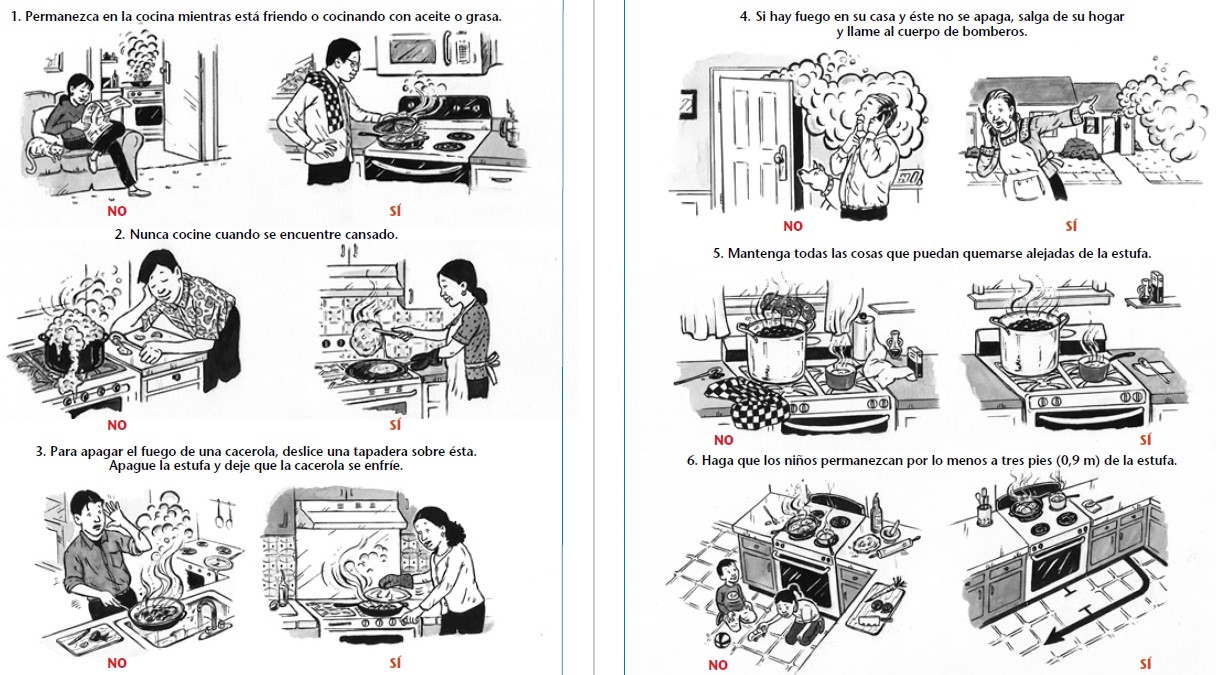 Cooking brings family and friends together, provides an outlet for creativity and can be relaxing. But did you know that cooking fires are the number one cause of home fires and home injuries? By following a few safety tips you can prevent these fires.
CLICK HERE for additional cooking tips.
Cocinar reúne familiares y amigos, nos ofrece un medio para ser creativos y puede ser una actividad de relajación. ¿Pero sabía que el fuego para cocinar es la causa principal de incendios y lesiones domésticas? Puede evitar estos incendios al seguir algunos consejos de seguridad.
HAGA CLIC AQUI para obtener consejos de cocina adicionales.
Day 2
𝘋𝘪𝘥 𝘺𝘰𝘶 𝘬𝘯𝘰𝘸 𝘵𝘩𝘢𝘵 27% 𝘰𝘧 𝘩𝘰𝘮𝘦 𝘩𝘦𝘢𝘵𝘪𝘯𝘨 𝘧𝘪𝘳𝘦𝘴 𝘢𝘳𝘦 𝘤𝘢𝘶𝘴𝘦𝘥 𝘣𝘺 𝘧𝘢𝘪𝘭𝘶𝘳𝘦 𝘵𝘰 𝘤𝘭𝘦𝘢𝘯 𝘩𝘦𝘢𝘵𝘪𝘯𝘨 𝘦𝘲𝘶𝘪𝘱𝘮𝘦𝘯𝘵?
As the weather cools down, fireplaces and wood-burning stoves are about to start heating up! Before we start using our heating equipment for the season, it's important to discuss how to prevent chimney fires and stay safe while you heat your home. Please take a moment to join our Emergency Prevention Specialist, Lacey Newman, as she talks about this crucial fire safety topic.
Quick Tips:
✭ Make sure your heating equipment and chimneys are cleaned and inspected, at least once a year professionally .
✭ Only burn seasoned firewood in your fireplace or wood-burning stove.
✭ Keep kids at least 3ft from home-heating devices.
✭ Keep flammables away from home-heating devices.
✭ Once cool, scoop ashes into a metal container and keep the container a safe distance from your home.
✭ If you have a chimney fire, get everyone out of the house and call 9-1-1.
Day 3
Electrical Fire Safety – Follow along as Emergency Prevention Specialist Lacey Newman discusses electrical fire safety.
Quick Tips:
⚡ If your circuit breakers, electrical appliances, outlets, or lights are not performing optimally, call a qualified electrician to come check them out.
⚡ Check your electrical cords to ensure they aren't damaged, cracked or loose. A faulty wire can start a fire!
⚡ Ensure that all your outlets have a faceplate on them.
⚡ Keep children away from electrical cords and outlets, as there is a risk for burns, shock or even electrocution. If you do have kids at home, consider installing plug covers to prevent an accident.
⚡ To prevent overheating, plug in no more then one heat-producing appliance per outlet.
⚡ Never use an extension cord or plug strips with any major appliance.
⚡ Turn lights off and unplug appliances when they are not in use.
⚡ If you have an electrical fire, get out of the house and call 9-1-1.
Day 4
Fire sweeps where carelessness creeps. Please take a moment to join our Emergency Prevention Specialist, Lacey Newman, as she talks about how to prevent accidental smoking related fires.

Quick Tips:
– If you do smoke, smoke outside.
– Stay alert! Don't smoke when you are drowsy.
– Never throw a cigarette or cigarette butt out a window.
– Ensure smoking materials are fully extinguished when you're finished smoking.
– Use a deep, sturdy ashtray and keep the ashtray away from anything that could catch fire.
– Empty the ashtray often and wet the contents down before dumping them into your trash.
– Never smoke where medical oxygen is used.
– As always, if there is a fire, get out of the house and call 9-1-1.
Day 5
40% of all home fire deaths have occurred in homes without smoke detectors.
Please join North Mason Regional Fire Authority's Fire Chief, Beau Bakken, as he talks about smoke detectors, proper smoke detector placement, and the importance of having a pre-arranged family exit plan.

Quick Tips:
– Install smoke detectors in every bedroom, outside of bedrooms, and on every level of the home, including the basement.
– Remember, smoke rises, so mount smoke alarms high on walls or ceilings.
– If you have pitched ceilings, install your smoke detectors between 6 – 36 inches down from the peak.
– Don't install smoke alarms near windows, doors, or ducts where drafts might interfere with their operation.
– Test smoke detectors monthly, by simply pushing and holding the "test" button.
– If the alarm chirps, it's a warning that the battery is low and needs to be replaced.
– Smoke detectors, in general, should be replaced every 10 years (unless otherwise specified from the manufacturer).
– As a family, plan two ways of exiting each room in your house.
– Have a pre-planned meeting spot a safe distance from your home.
– As a family, practice evacuating and gathering in your meeting spot.
– If you are in need of a smoke detector, call us at (360)275-6711 or send a request to us through our website at northmasonrfa.com
– If there is a fire, get out of the home and call 9-1-1.