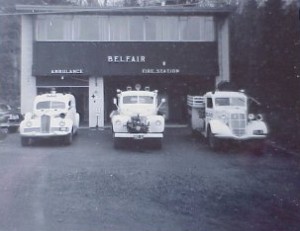 North Mason Regional Fire Authority began operation on January 1, 2014, following the combination of resources of Mason County Fire Districts 2 and 8. Mason County Fire District 2, originally known as the Belfair Volunteer Fire Department, was created in 1946, when the citizens of Belfair recognized the need to provide fire and emergency protection for their neighbors. Beginning with a World War II military surplus fire engine and Quonset hut building in downtown Belfair, the Fire District served a community of approximately 400 citizens. In the early 1950s, an additional fire truck was purchased, as well as a military surplus ambulance. The District was able to provide both fire and emergency medical services to the area for over 20 years, operated exclusively by volunteer firefighters.
Today, North Mason Regional Fire Authority spans 132 square miles, encompassing the majority of the northeast portion of Mason County and serving approximately 22,000 residents in the communities of Belfair, Dewatto, Collins Lake, Trails End Lake, Tahuya, Maggie Lake and both the north and south shores of Hood Canal. The Authority provides around the clock firefighter staffing at Collins Lake Fire Station 27 and Belfair Fire Station 21, as well as daytime weekday staffing at Tahuya Station 81. There are an additional six volunteer fire stations located throughout the remainder of the Authority.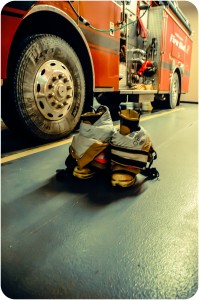 The Fire Authority includes both professional and volunteer firefighters, emergency medical technicians (EMT), paramedics and a Community Response Team (CRT), and proudly serves the community as an all-hazards response agency, as it is responds to any type of emergency – fire, emergency medical and rescue operations. Of the 2,600 alarms answered annually, nearly 85 percent are emergency medical responses. Advanced Life Support (Paramedics) and Basic Life Support (Emergency Medical Technicians) are available to respond to emergency incidents 24 hours a day.
In addition to responding to emergencies, the Fire Authority is pleased to offer a variety of non-emergency services through the Community Outreach Program. Some of the services offered include home safety inspections, free smoke detectors and address signs, first aid and CPR classes, disaster preparedness and fire extinguisher training.
The North Mason Regional Fire Authority represents the very best efforts of community volunteers and dedicated career staff working together to protect life and property, and ensure the well-being and safety of our citizens. We are proud to continue the tradition of "neighbors helping neighbors" and are fortunate to be able to Safeguard North Mason Communities!
Mission:
We Safeguard North Mason Communities
Vision:
We are an essential, trusted and valued community partner. We continuously improve and evolve with the communities that we serve.
Click here if you would like to Contact Us