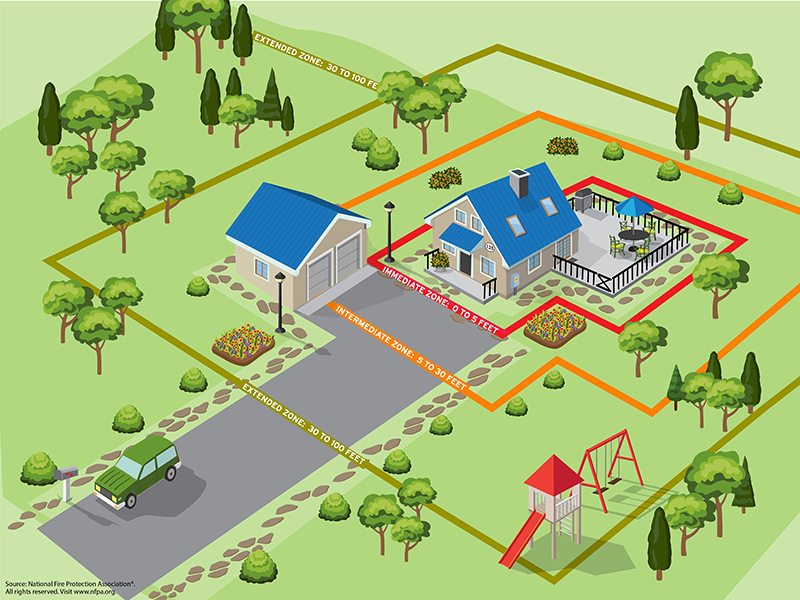 Wildfire Community Preparedness Day is a national campaign that encourages people and organizations everywhere to come together on a single day to take action to raise awareness and reduce wildfire risks.
Research shows there are proven methods for preparing properties for withstanding the devastating impacts of a wildfire. This Prep Day, May 7th, you have the power to protect the part of the community that means the most to you and your family by eliminating vulnerabilities in the Home Ignition Zone (HIZ), particularly the immediate 5-foot zone around your residence. Whether it's replacing wood chips with gravel or reimagining your entire landscape design, what you do on Saturday, May 7, really matters.
Additional home activities include:
Cleaning pine needles from your roof and gutters.
Getting out your measuring tape and seeing how close wood piles are located to the home. If they are closer than 30 feet, relocate them to at least 30 feet away from structures.
Sweeping porches and decks, clearing them of leaves and pine needles. Raking under decks, porches, sheds and play structures.
Mowing grasses to a height of 4 inches or less.
Removing items stored under decks and porches and relocating them to a storage shed, garage or basement. Gasoline cans and portable propane tanks should never be stored indoors and should be located away from the home.